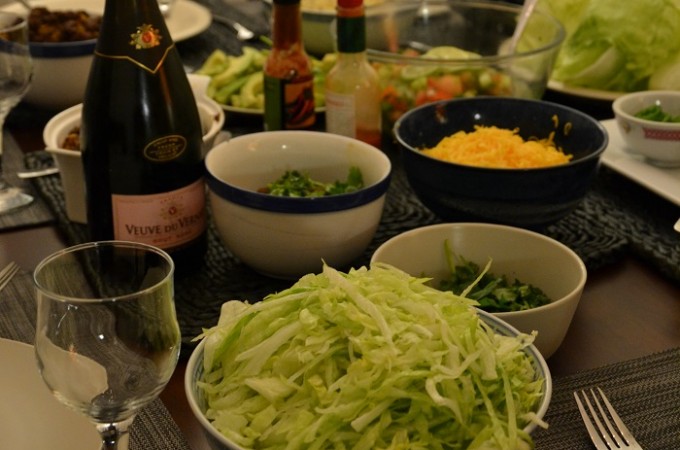 Dinner With Friends
Dinner With Friends
Dinner with friends. It has been a dreary fall-begining-of-winter, lots of constant rain and big dark clouds covering the sky. So when my friends suggested a homemade dinner I jumped at the chance to spend an evening in, with good friends enjoying some great food reminiscent of warmer weather! In some of my past posts I've looked into how architecture is really closely related to fashion, how the world of design ties in with what we wear. Well I believe food is a big part of that. As many cultures will attest to, having a wonderful colourful meal is a huge part of the everyday and therefore impacts who we are and how we present ourselves!
This friend of mine is one of the best hostesses I know! Everything is planned to the last detail and to be honest she nearly had a heart attack when I showed up with my camera, protesting that this was just going to be a simple meal. Well simple or not, the dried figs with melted cheese were superb and just filled us with warmth.
There is nothing like homemade food cooked with lots of love. Nothing packaged for these friends, they only use the freshest of ingredients!
For a simple dinner I think they did pretty well, the table was positively creaking with the huge amount of food! Sometimes simple is best. In just a few short weeks we will be bombarded with big family dinners, work parties and a whole lot of excess. Leading up to this I think it's best to eat healthy and fresh foods filled with rich nutrients.
When the food is colourful you don't need any decor! I wanted to bring some wine so I hit the internet to see what goes well with Mexican food. The first bit of information I found was that anything bubbly is perfect, since everything on the internet is the absolute truth I decided to go with that! You know, it worked, a great mix of flavours in my mouth.
The evening ended with homemade mango-pineapple ice cream. I can't think of anything better! Here's to great friends, great conversation and great food! The next time you are looking for something to do on a Saturday night, how about a great dinner with friends!
Do you love dinner with friends?
*For more on dinner with friends join me on instagram and twitter*


Recommended